The Project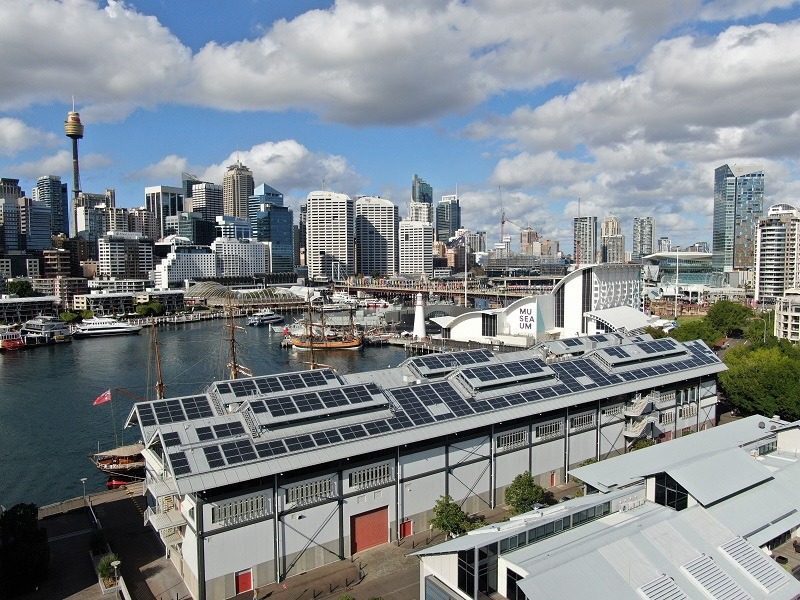 ANMM
Built in 1991, the Australian National Maritime Museum (ANMM) occupies an outstanding harbour-side location in Darling Harbour, close to the centre of Sydney. ANMM strives to conserve the natural environment and protect the ocean. Driven by their desire to minimise their environmental impact, the ANMM began looking at solar in 2015, however, the roof of the building has penetration and load bearing issues meaning heavy conventional solar panels which require mounting that penetrates the roof could not be used. For this reason, SUNMAN's revolutionary lightweight eArc solar panel which does not require roof penetration for installation was selected by the ANMM.
WHY ENERGUS
Energus supplied, installed and managed the 235kW eArc project for the museum. Due to the high profile and high traffic area of the museum, together with the 30 degree pitch of the roof, the project required a high standard of safety and key stakeholder engagement.
The ANMM desired a visually attractive installation. Energus achieved this with a meticulous panel layout, to strike the balance between performance, installation efficiency and seamless integration into the building. Energus enhanced the aesthetic appeal of the installation with the silicone based mounting mechanism available only to eArc together with elaborate yet discreet cable management.
Through consultation with various key stakeholders including safety representatives, government representatives, tenants of the building, and our subcontractors, Energus successfully designed, planned and delivered the project on time and to budget.
The eArc solar system is an exciting new addition to the museum, that will allow the ANMM to reduce its environmental impact and its operating costs without compromising the museum's striking appeal.