SunMan's eArc power Byron bay's world-first solar train
---
SunMan's new solar panel eArc have commenced operations in Byron bay's world-first solar train, an innovative project that using a disused line to provide a link between the township and the growing North Beach precinct of the holiday destination.
The two-carriage heritage train was fitted out with 6.4kW of eArc solar panels and a large solar battery bank. The train operates on energy from the sun, with one diesel engine remaining solely as emergency back-up. eArc solar panels on the train and a solar array on the storage shed roof will generate sufficient energy to power the daily train service, charging the on-board battery. The revamped train will do 14 round trips a day between Byron Bay and Beach.
As we know, the conventional c-Si module (glass and aluminium) has remained unchanged for the past 40 years. Using glass and aluminium means the module is heavy, inflexible, can only be mass-produced in 2 standard sizes. SunMan developed new patented materials and encapsulation process to fulfill the unique features of eArc products (Ultra-light, flexible and customized shape ect.) which make it a good solution to broad solar applications, e.g. on objects that are uneven, weak, or mobile. Meanwhile, eArc product can be handled, transported, and installed easily. This will change the way dramatically how solar is deployed easily in the market.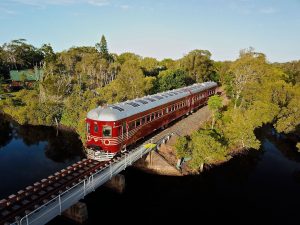 Among the elements on the Byron Bay Train