The Project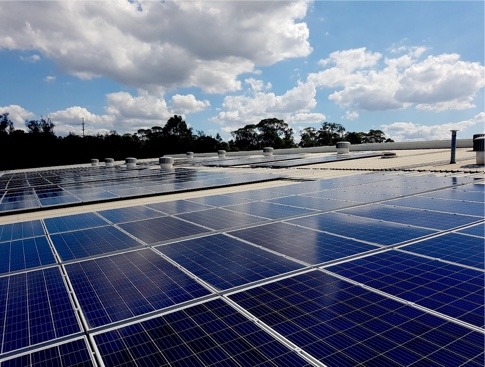 CSR Bradford has been considering solar over multiple sites to achieve reductions in their electricity consumption, electricity expenditure & greenhouse gas emissions. Some of the sites considered are not structurally designed or able to take the weight of a conventional solar system. CSR decided to contract Energus and test the lightweight solar panel eArche alongside a larger conventional 353 kW system on their Ingleburn site in Sydney. Both systems were successfully installed in August of 2017.
INSTALLATION
CSR required the highest level of safety and logistics co-ordination at their Ingleburn site. Co-ordinating with the day-to-day operations of the site was essential to minimise disruption.
With only 1 scissor lift location on site and 353kW worth of 72 cell panels spread across a very large roof, Energus had to manage their team closely during periods of high wind and heat. Weather prediction software was used to plan the weeks activities and manage all stakeholders expectations.
Extensive engineering work was completed on the structure during the design phase to determine the allowable weight loading that a solar panel installation could add to the roof. The panels were spread across the roof according to the structural reports, ensuring that the structure could safely accommodate the panel installation.
Once the 353 kW conventional system was installed, the 2.24kW eARche system was installed alongside. Both conventional and eArche systems were installed with solaredge software so that CSR and Energus can monitor the relative performance of both systems. Energus looks forward to working with CSR into the future on other sites.